Events
Diamond Back Entertainment presents Sounds of the Underground on 6th May
The vibrant and pulsating rhythms of Ghana Music are set to light up the Waves Lounge in East Legon on May 6th, as Diamond Back Entertainment proudly presents "Sounds of the Underground".
A mini-concert featuring some of the most exciting and innovative names including, Kobby Rockz, Titi Blak, Jubylant, Shisiq, Qalala, and G.I Jonez.
The event promises to be an unforgettable evening of music, with doors opening at 7:30 pm and the show kicking off soon after.
Fans can expect a high-energy performance, as the performers take to the stage to showcase their skills, backed by an incredible sound system and stunning visuals.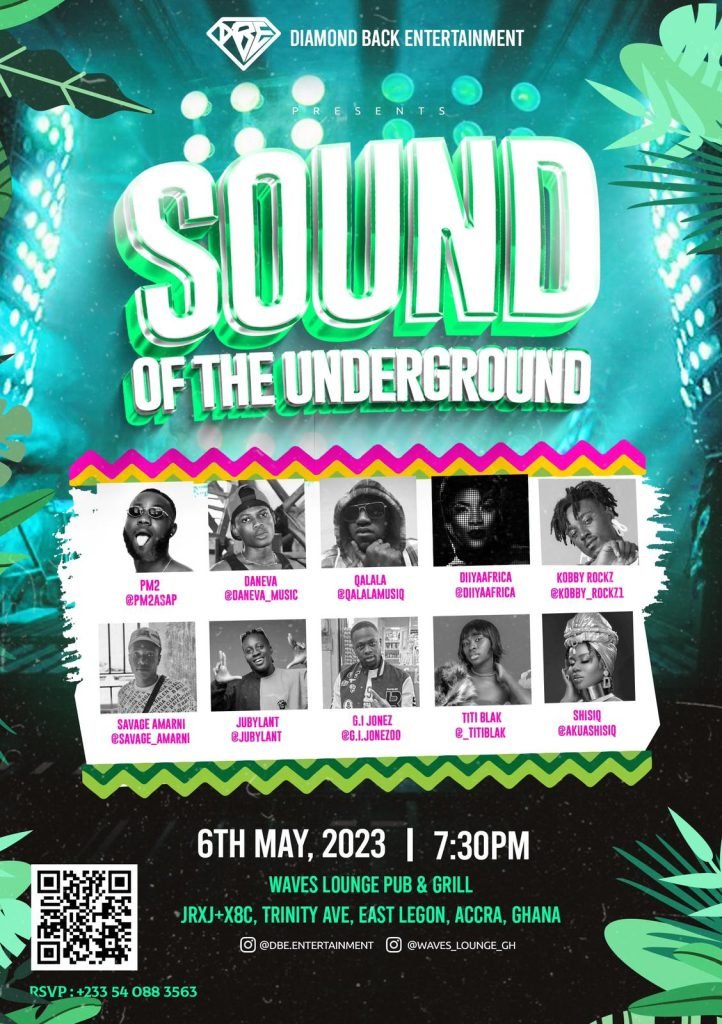 Featuring some of the most talented and dynamic artists on the scene, "Sounds of the Underground" is sure to be a night to remember.
With electrifying performances from up-and-coming artists and established names alike, the event offers something for everyone who loves Ghanaian music.
So, if you're a music fan or just looking for a night of great music and good vibes, mark your calendars for May 6th and head down to the Waves Lounge Pub & Grill in East Legon.
THANK YOU for constantly reading stories on Ghana Music. Kindly like, follow, comment and SHARE stories on all social media platforms for more entertaining updates! Do you have content that you want featured on Ghana Music? Reach out to us via Email at info@ghanamusic.com or on WhatsApp on 055 979 9767.