Top Stories
Susan Augustt and the Adorkor Band release debut album ''Adorkor Volume 1''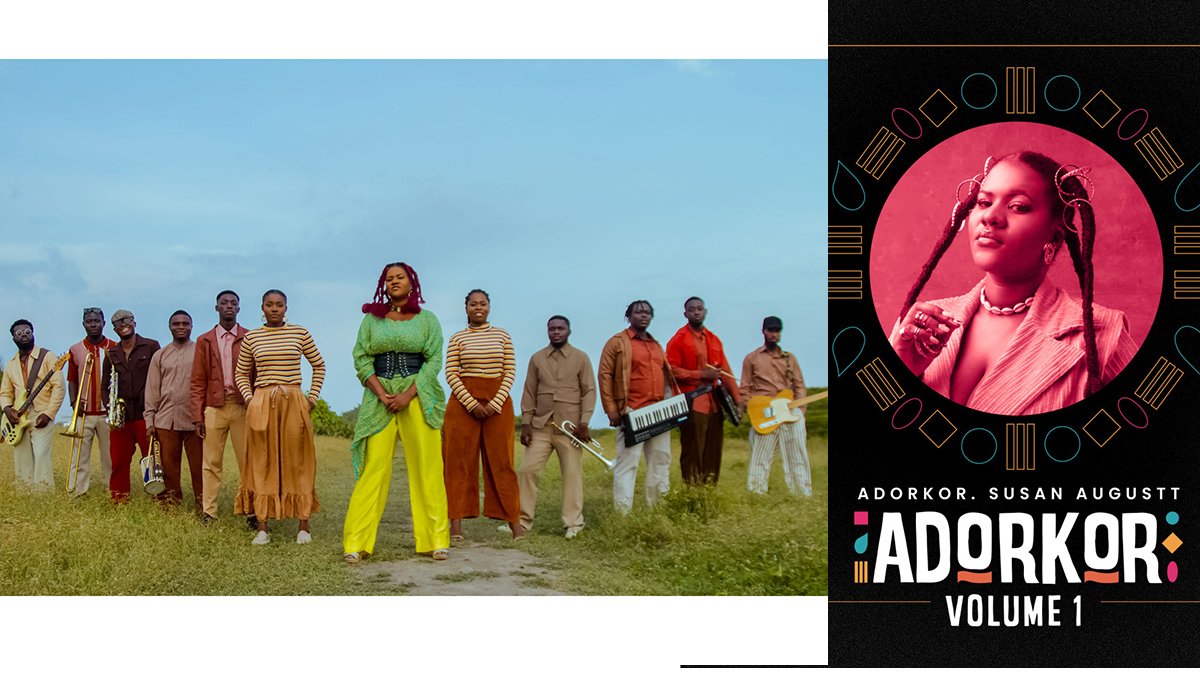 Abundantly gifted Ghanaian singer-songwriter, Susan Augustt, together with the Adorkor Band unveil their debut album, ''Adorkor: Volume 1''.
''Adorkor: Volume 1'' is a collection of Neo-soul and Afro-soul songs from their previous live concerts. The project is filled with an incredible fusion of beats, melodies and emotions that will take you on an unforgettable sonic adventure!
Listening to music performances from a live concert is a whole different experience. With every lyric and every beat, you feel as though you're sitting in the auditorium live and enjoying the music. That's what Susan Augustt and the Adorkor Band seek to do with this 9-track collection.
Kwegyir Aggrey didn't lie when he said, ''…if you educate a woman, you educate the whole nation''. Susan Augustt translates this in track 1 of her new project. 'Obaa' is a 4-minute musical description of who a woman is.
She describes her as powerful, strong, hardworking, smart and independent. In this day and age of women's empowerment and feminism, Susan sings about the power of today's woman, her willingness to make things work and her ability to cause and make changes where necessary.
The live band instrumentations and vocal backing add so much energy to it and it's worth keeping on repeat.
No one's project is complete without a song that speaks of love. For Susan Augustt, her ideal type of man is black, strong and African and she wants nothing to do with 'Foreign Love'. Her soothing voice is catchy throughout the Jazz-inspired Soul track.
It's easy to immediately feel and relate to the lyrics of the song as though she's singing right into your ears. It's only a love song that can get you this deep in your feelings. Unfortunately, the love run comes to an end in 'Gyae' where Susan sings about toxic love.
A relationship that thrives on cheating, abuse and insecurities is not something she's looking for and she pleads to be left alone. The pain, hurt and emotions can be felt in her voice and the way she sings the song.
What is a Susan Augustt project without Palmwine Highlife? In 'Run Back Home', she tells us what it takes to pursue one's dream. The journey of life depends on making uncomfortable decisions and taking bold steps.
However, if all the plans and hard work fail, it's okay to run back home, reset and start all over again. In the remaining tracks, titled 'Aw)', 'Woyii Faa', 'Philomena', 'Dromo' and 'Adorkor', Susan and the Adorkor Band treat listeners to a wide range of live music performances on the topics of love, grace, the power of togetherness, unity and many more.
''Adorkor: Volume 1'' is available on all digital streaming platforms worldwide here.
CONNECT WITH SUSAN AUGUSTT:
TWITTER: @susan_augustt INSTAGRAM: susan_augustt FACEBOOK: Susan Augustt's World (Adorkor Music)
THANK YOU for constantly reading stories on Ghana Music. Kindly like, follow, comment and SHARE stories on all social media platforms for more entertaining updates! Do you have content that you want featured on Ghana Music? Reach out to us via Email at info@ghanamusic.com or on WhatsApp on 055 979 9767.