Top Stories
Carl Clottey ignites gratitude to God with latest multi-genre 13-track 'Shidaa' Album! – Listen HERE
The recently released album "Shidaa" by Carl Clottey stands as a testament to both musical excellence and spiritual inspiration.
In the dynamic landscape of music, artists often strive to create a unique sonic experience that resonates with listeners on a profound level.
With its carefully curated tracks, impactful collaborations, and dedication to a higher purpose, the album has captured the hearts of believers and non-believers alike, both locally and internationally.
A Long-Awaited Return:
After a considerable hiatus since his debut album in 2013, Carl Clottey has returned with his sophomore album, "Shidaa." This collection of songs, consisting of 13 tracks, is a culmination of years of musical growth and creative exploration.
The album not only showcases Clottey's evolution as an artist but also his unwavering commitment to crafting melodies that resonate with diverse audiences.
A Musical Journey:
"Shidaa" is an anthology of soul-stirring tracks, with 12 of them originally penned by the talented Carl Clottey himself. Additionally, the album features the Glorious King Medley, a harmonious fusion of Apostolic Twi Hymns.
This inclusion pays homage to tradition while infusing it with a contemporary twist, bridging the gap between generations and musical styles. Each track is a reflection of Clottey's artistic depth and his dedication to creating a multifaceted listening experience.
Unforgettable Collaborations:
One of the standout features of "Shidaa" is the lineup of esteemed artists who have lent their voices to the album. The collaboration with renowned gospel artist Joe Mettle on the track "Moko b3" adds an extra layer of dynamism to the album.
Enuonyam Akuffo, Naana Asiedu, and the G.Vibe Singers also contribute their exceptional talents, resulting in a harmonious fusion of voices that enriches the musical landscape of the album.
An Unveiling of Spiritual Dedication:
The unveiling of "Shidaa" took place in a memorable Media Listening and Preview event held at the Believers House of Worship International. The album was dedicated by none other than Apostle Abraham Lamptey, adding a spiritual dimension to its launch.
This act further underscores the album's objective of not only entertaining but also uplifting and touching the lives of believers and non-believers alike.
Production Mastery:
Behind the scenes, "Shidaa" boasts an impressive team that has contributed to its sonic brilliance. The album was produced by Billy Selasie, whose meticulous attention to detail is evident in each track.
The mixing and mastering, a critical component of any musical project, were expertly handled by Joel Maclawson, ensuring that every note and harmony resonates with precision and emotion.
Available Everywhere:
Listeners around the world can now immerse themselves in the enchanting sounds of "Shidaa." The album is available on all major digital platforms, making it easily accessible to a global audience.
For those who appreciate a tangible connection to their music, the album is also available on Pen Drives, ensuring that it can be enjoyed anytime, anywhere.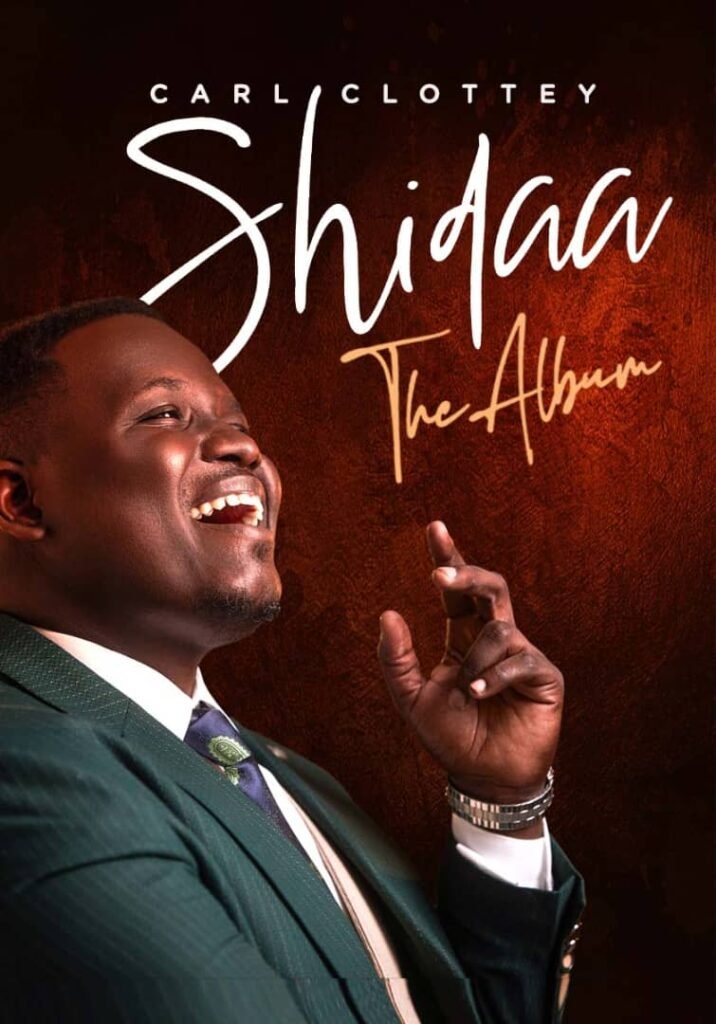 A Universal Message:
"Shidaa" is not just an album; it's a universal message of hope, inspiration, and the power of music to transcend boundaries. Carl Clottey's carefully curated work of art has the potential to touch lives and hearts, regardless of faith or background.
As the tracks resound through speakers and earbuds, they carry with them a profound reminder of the transformative nature of music and its ability to bring people together.
In a world that often seeks solace in melodies and lyrics, "Shidaa" emerges as a musical sanctuary, inviting all who listen to find a piece of themselves within its harmonies.
As Carl Clottey's second album, it not only solidifies his place in the music industry but also solidifies his role as a messenger of inspiration and spiritual resonance.
THANK YOU for constantly reading stories on Ghana Music. Kindly like, follow, comment and SHARE stories on all social media platforms for more entertaining updates! Do you have content that you want featured on Ghana Music? Reach out to us via Email at info@ghanamusic.com or on WhatsApp on 055 979 9767. #GhanaMusic