Top Stories
Mr Eazi Unveils Tracklist and Artwork for Highly Anticipated Debut Album, the Evil Genius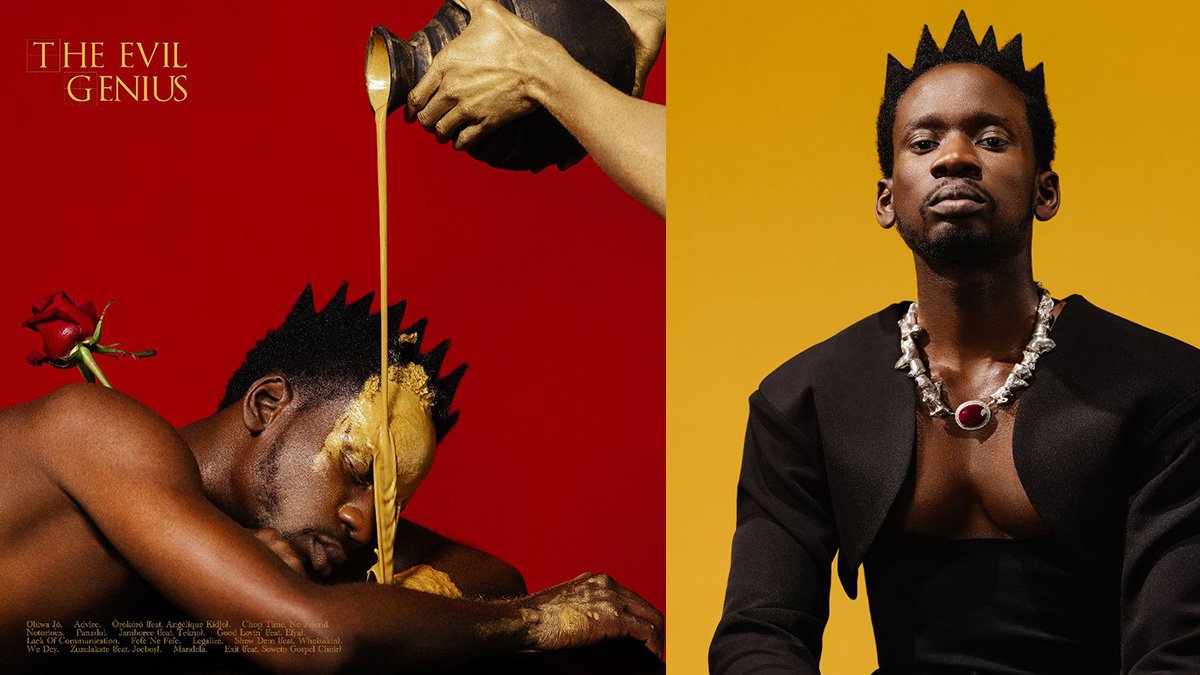 Afropop superstar Mr Eazi has shared the artwork and tracklist for his long-awaited debut album, The Evil Genius, dropping this Friday, Oct. 27 via the artist's own emPawa Africa.
Recorded between Benin, Rwanda, Ghana and Nigeria, as well as in London, Los Angeles and New York City, The Evil Genius features some of Mr Eazi's most personal work, as he dives deeply into subjects like love, betrayal, loneliness, and family, expressed through three distinctive acts.
Expanding upon Banku Music, Mr Eazi's distinctive spin on contemporary afropop, the project encompasses an eclectic range of styles and influences, from Ghanaian highlife to grime to gospel.
Guest features on the project come from Angelique Kidjo (Benin), Tekno (Nigeria), Efya (Ghana), Whoisakin (Nigeria), Joeboy (Nigeria) and South Africa's Soweto Gospel Choir.
Contributing producers include Kel-P (Nigeria), Knucks (U.K.), Michael Brun (Haiti), M.O.G Beatz (Ghana), Andre Vibez (Nigeria), Killbeatz (Ghana), E Kelly (Nigeria), Type A (Nigeria), Yung Willis (Nigeria), Nonso Amadi (Nigeria/Canada), Phantom (Nigeria), KDream (Nigeria) and Mr Eazi himself.
In a first-of-its-kind fusion of African music and contemporary art, Mr Eazi commissioned visual artists from across the continent to create a unique, physical art piece to represent each of the album's 16 tracks.
Noting a lack of meaningful collaboration between Africa's exploding pop music scene and the continent's fine art creators, Mr Eazi personally handpicked 13 artists, representing eight African countries, adding art curator and patron to his already extensive resume of pursuits.
The result is a unique and ambitious pan-African art project that has earned notice from art-world figures like Marina Abramović, and media including ARTNews and The Guardian.
As the project rolls out, Mr Eazi is inviting the public to experience the music alongside the art at multi-sensory exhibition listening experiences, with the first two taking place in Accra, Ghana and London earlier this month, where it was featured as a special project at the 1-54 Contemporary African Art Fair. Additional activations will be announced soon.
For the album's cover art, Mr Eazi tapped celebrated Nigerian stylist, designer and photographer Daniel Obasi, known for his work with Beyoncé and Louis Vuitton, whose imagery speaks to The Evil Genius' central themes of love, hate, friendship and betrayal.
"In a metaphysical and surrealist portrayal, the cover art draws from the composition and ideals of The Last Supper and David's prayer of Psalm 23," Obasi said.
Completing a rollout that's seen him already release the singles "Legalize," "Chop Time, No Friend," "Advice" and "Fefe Ne Fefe," Mr Eazi has just issued the project's latest single, "Exit," featuring the iconic South African vocal group and three-time Grammy winners Soweto Gospel Choir.
Watch the epic "Exit" video, filmed atop South Africa's famed Drakensberg escarpment, amidst the oldest mountain range in the world.
Tracklist
Olúwa Jọ̀
Produced by: E Kelly, Stikmatik, Timmy, Mr Eazi
Advice
Produced by: M.O.G Beatz
Òròkórò (feat. Angélique Kidjo)
Produced by: Kel-P
Chop Time, No Friend
Produced by: Killbeatz, Andre Vibez
Notorious
Produced by: Kel-P, AoD
Panadol
Produced by: Type A
Jamboree (feat. Tekno)
Produced by: Yung Willis
Good Lovin' (feat. Efya)
Produced by: Type A
Lack of Communication
Produced by: Kel-P, Mr Eazi
Fefe Ne Fefe
Produced by: Kel-P, KDaGreat
Legalize
Produced by: Michaël Brun, E Kelly, Nonso Amadi
Show Dem (feat. Whoisakin)
Produced by: Phantom
We Dey
Produced by: Knucks, AoD, E Kelly, Wade Oghenejabor and Venna
Zuzulakate (feat. Joeboy)
Produced by: Type A, Kel-P
Mandela
Produced by: KDream
Exit (feat Soweto Gospel Choir)
Produced by: Kel-P
Mr Eazi by Daniel Obasi
ABOUT MR EAZI
MR EAZI is a musical innovator, business leader and philanthropist. As a recording artist, the Nigerian multihyphenate is the voice behind afropop hits "Pour Me Water," "Skin Tight" and "Leg Over," as well as groundbreaking collaborations with the likes of Beyoncé and J Balvin, and the creator of Banku Music, a fusion of Ghanaian and Nigerian sounds and culture.
A serial entrepreneur, he founded emPawa Africa in 2018 as a talent incubator program designed to accelerate the careers of African artists.
Hailed by CNN, Rolling Stone, Billboard and Forbes for its innovative approach to expanding African music's global reach, emPawa Africa has since grown into one of Africa's largest independent music companies, with a track record of breaking global stars like Joeboy and Major League Djz.
Mr Eazi has clocked over 4 billion streams off his songs across DSPs, making him one of the most streamed African artists worldwide. Instagram // Twitter // TikTok // Spotify
THANK YOU for constantly reading stories on Ghana Music. Kindly like, follow, comment and SHARE stories on all social media platforms for more entertaining updates! Do you have content that you want featured on Ghana Music? Reach out to us via Email at info@ghanamusic.com or on WhatsApp on 055 979 9767. #GhanaMusic