Events
Kuami Eugene, Elephant Man, others set for Pure Vibez Carnival Explosion in New York on July 22!
Get ready for an electrifying musical experience as Ghana's Kuami Eugene, Jay Baba & ace Jamaican superstar, Elephant Man headline the highly anticipated Pure Vibez Carnival Explosion in New York.
The event takes center stage at MLK Park in Rochester, NY, on Saturday, July 22nd, 2023.
This vibrant event promises an unforgettable night of entertainment, featuring a stellar lineup of renowned artists such as Elephant Man, Jay Baba, Kuami Eugene, and more.
With DJ sets by Maestro, DJ JK, DJ Max, Onyx, and DJ Lagek, attendees are in for an exhilarating journey through various music genres and sensational performances.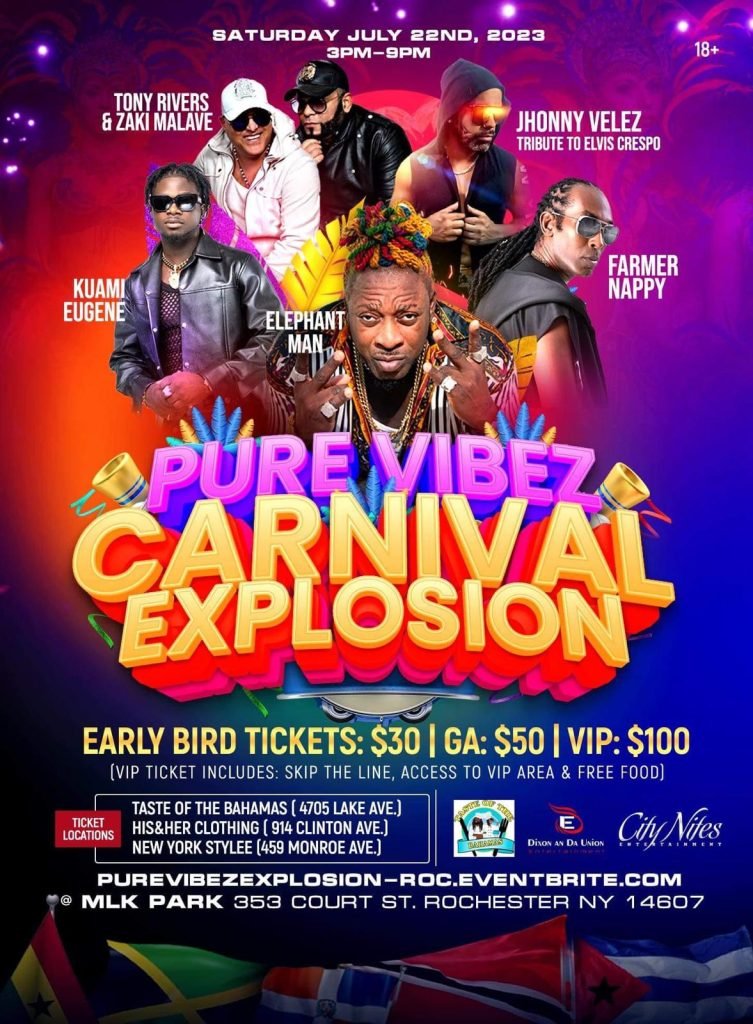 A Star-Studded Lineup:
Pure Vibez Carnival Explosion boasts an impressive roster of talented artists who will grace the stage with their captivating performances. Prepare to be mesmerized by the high-energy dancehall vibes of Elephant Man, as he brings his infectious hits and charismatic stage presence to the event.
Jay Baba, the rising star, is set to deliver a memorable live performance, showcasing his unique style and dynamic stage persona.
The sensational Kuami Eugene, known for his Afrobeat and highlife fusion, will captivate the audience with his soulful vocals and energetic performances.
An Unforgettable Experience:
The Pure Vibez Carnival Explosion is not just about the exceptional musical talent on display. It promises a complete entertainment package with DJ sets by industry experts Maestro, DJ JK, DJ Max, Onyx, and DJ Lagek, who will keep the energy levels soaring throughout the event.
Hosted by the charismatic Baaba Lin and Freddy Colon, the evening is sure to be filled with infectious vibes, non-stop dancing, and a memorable carnival atmosphere.
Ticket Details and Locations:
Early bird tickets are available for $30, while general admission (GA) tickets are priced at $50. For those seeking a VIP experience, VIP tickets are priced at $100, offering exclusive perks such as skip-the-line access, entry to the VIP area, and complimentary food.
Tickets can be purchased at His & Her Clothing (914 Clinton Ave.), New York Stylee (459 Monroe Ave.), and Taste of the Bahamas (4705 Lake Ave.). Alternatively, tickets can be secured online at: purevibezexplosion-roc.eventbrite.com
Conclusion:
Prepare to immerse yourself in an unforgettable musical journey at the Pure Vibez Carnival Explosion in Rochester, NY. With an incredible lineup featuring Elephant Man, Jay Baba, Kuami Eugene, and more, accompanied by exhilarating DJ sets, this event promises an evening of non-stop entertainment and infectious rhythms.
Don't miss your chance to be a part of this sensational music extravaganza. Get your tickets today and join the vibrant celebration at MLK Park on Saturday, July 22nd, 2023.
THANK YOU for constantly reading stories on Ghana Music. Kindly like, follow, comment and SHARE stories on all social media platforms for more entertaining updates! Do you have content that you want featured on Ghana Music? Reach out to us via Email at info@ghanamusic.com or on WhatsApp on 055 979 9767. #GhanaMusic