Top Stories
Joe Mettle, Joyce Blessing, Patience Nyarko & more nominated for 2019 Africa Gospel Music Awards Festival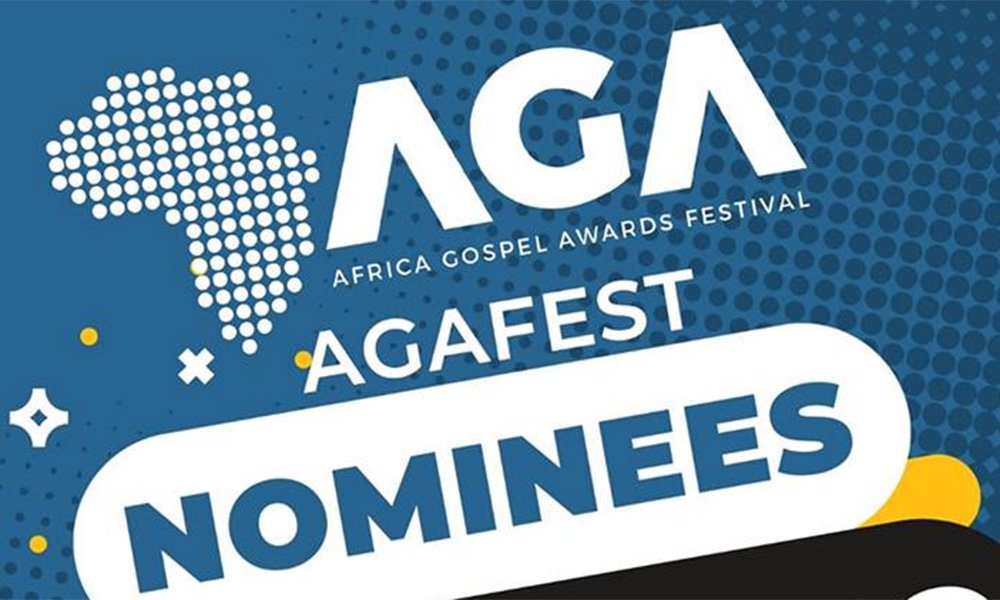 The nominees for this year's edition were announced at a short ceremony at the Holiday Inn Hotel, Accra.
The Africa Gospel Music Awards Festival (AGAFEST) is a ceremony held annually to acknowledge the hard work of gospel musicians and stakeholders in the whole of Africa.
Multiple award-winning Ghanaian Gospel musician, Joe Mettle, secured a total of ten nominations at this year's Africa Gospel Music Awards Festival.
The event was graced by many honorable men and women in the Gospel music fraternity.
Musicians such as Kingzkid, Lil Zig, Efe Grace, Patience Nyarko, Kobby Salm among others were there to grace the occasion.
Dignitaries including the CEO of the award scheme, Prince Mackay and artist manager, Nii Noi (Akesse Brempong's manager) honoured the gathering with their presence at the 3-hour event.
The main awards night will be held in the first week of March in Accra, Ghana.
The 2017 VGMA Artiste of the Year not only bagged ten (10) nominations but also exceeded Nigeria's Tim Godfrey who had eight (8) nominations and South Africa's Dr. Tumi who received six (6) nominations in total.
Several other Ghanaian gospel artistes also got nominated including Joyce Blessing, KODA, Patience Nyarko, Kingzkid, MoG, , Kobby Salm, Daughters of Glorious Jesus, Tagoe Sisters, Jeshurun Okyere, Akesse Brempong, Sonnie Badu and Diana Hamilton.
Below is the full list of nominees:
Africa Gospel Artiste of the Year
Joe Mettle (Ghana)
Dr. Tumi (South Africa)
Nathaniel Bassey (Nigeria)
Frank Edwards (Nigeria)
Tim Godfrey (Nigeria)
Sonnie Badu (Ghana)
Sinach (Nigeria)
Benjamin Dube (South Africa)
Diana Hamilton (Ghana)
Eben (Nigeria)
Africa Gospel Song of the Year
Obi Nyane Me – Patience Nyarko (Ghana)
Bo Noo Ni – Joe Mettle (Ghana)
Nasempini – Spirit of Praise ft Ayanda Ntanzi (South Africa)
Nara Ekele Mo – Tim Godfrey ft Travis Greene (Nigeria)
Ekueme – Prospa Ochimana ft Osinachi N (Nigeria)
Excess Love – Mercy Chinwo (Nigeria)
Huniachi – Reuben Kigame ft Gloria Muliro (Kenya)
Hosanna – Koda (Ghana)
Ulwandle – Dumi Mkokstad (South Africa)
Victory – Eben (Nigeria)
Africa New Artiste of the Year
Lebohang Kgapola (South Africa)
Mercy Chinwo (Nigeria)
Kobby Salm (Ghana)
The Kings' Crew (Ghana)
Prospa Ochimana (Nigeria)
Jabidii (Kenya)
Lily Perez (Nigeria)
Africa Gospel Worship Artiste of the Year
Joe Mettle (Ghana)
Sonnie Badu (Ghana)
Nathaniel Bassey (Nigeria)
Sinach (Nigeria)
Dr. Tumi (South Africa)
Pastor Isaiah Ofosu Kwakye (Ghana)
Tim Godfrey (Nigeria)
Africa Gospel Praise Artiste of the Year
Sammie Okposo (Nigeria)
Mike Abdul (Nigeria)
KODA (Ghana)
Chioma Jesus (Nigeria)
Patience Nyarko (Ghana)
Spirit of Praise (South Africa)
Eben (Nigeria)
Africa Gospel Rap Hip Hop Artiste of the Year
Preachers (Ghana)
Shane Li Boy (South Africa)
Solomon Spencer (South Africa)
Kingzkid (Ghana)
Kobby Salm (Ghana)
The Kings' Crew (Ghana)
Dube Brothers (South Africa)
Africa Gospel Reggae/Dancehall Artiste of the Year
Akesse Brempong (Ghana)
Righteousman (Nigeria)
Mista Push (Nigeria)
Jabidii (Kenya)
Guardian Angel (Kenya)
Nat Abbey (Ghana)
Moji Shortbaba (Kenya)
Africa Gospel Artiste Manager of the Year
Kwesi Kumi Koomson – Joe Mettle (Ghana)
King David – Diana Hamilton (Ghana)
Kumi Wiilson – Patience Nyarko (Ghana)
Eezee Tee – Mercy Chinwo and Frank Edwards (Nigeria)
Pshegs – Sinach (Nigeria)
Kgaogelo Makweya – Dr. Tumi (South Africa)
Lucky Sekgobela – Lebo Sekgobela (South Africa)
Africa Gospel Female Artiste of the Year
Sinach (Nigeria)
Gloria Muliro (Kenya)
Diana Hamilton (Ghana)
Patience Nyarko (Ghana)
Mercy Chinwo (Nigeria)
Ntokozo Mbambo (South Africa)
Lebo Sekgobela (South Africa)
Africa Gospel Male Artiste of the Year
Joe Mettle (Ghana)
Tim Godfrey (Ghana)
Nathaniel Bassey (Nigeria)
Sammie Okposo (Nigeria)
Frank Edwards (Nigeria)
Dr. Tumi (South Africa)
Eben (Nigeria)
Africa Gospel Worship Song of the Year
Ekwueme – Prospa Ochimana ft Osinachi N (Nigeria)
Huniachi – Reuben Kigame ft Gloria Muliro (Kenya)
Excess Love – Mercy Chinwo (Nigeria)
Algbada Ina – Nathaniel Bassey (Nigeria)
There's an overflow – Sinach (Nigeria)
Be Lifted – MOG (Ghana)
Ulwandle – Dumi Mkokstad (South Africa)
Africa Gospel Praise Song of the Year
Victory -Eben (Nigeria)
Halleluyah Eh – Nathaniel Bassey (Nigeria)
30 Billion Halleluyah – Mike Abdul (Nigeria)
Nasempini – Spirit of Praise ft Ayanda Ntanzi (South Africa)
Nara Ekele Mo – Tim Godfrey ft Travis Greene (Nigeria)
Salute – Enkay Ogboruche ft Kierra Sheard (Nigeria)
Hossana – KODA (Ghana)
Africa Gospel Rap Hip Hop Song of the Year
Making It Big – MOG ft Sarkodie
Blessed – Dube Brothers (South Africa)
Kumbaya – Shane Li Boy (South Africa)
Cross and the Blood – Solomon Spencer (South Africa)
Above – Preachers (Ghana)
God Forbid – Kingzkid (Ghana)
Satan Claps – Kobby Salm (Ghana)
Africa Gospel Afropop Song of the Year
My Everything -Joe Mettle (Ghana)
I Swerve – Joyce Blessing (Ghana)
Signature – Jimmy Gait (Kenya)
Adom – Kaysi Owusu (Ghana)
Ujulikane – Laura Karwirwa ft Alice Kimanzi (Kenya)
Wakati Wa Mungu – Paul Clement ft Guardian Angel (Kenya)
Above – Preachers (Ghana)
Africa Gospel Reggae/Dancehall Song of the Year
Rejoice – Sonnie Badu (Ghana)
No Weed -Akesse Brempong (Ghana)
Shoot Satan – Jabidii (Kenya)
Who is like Jesus – Righteousman (Nigeria)
Thanks – Nat Abbey (Ghana)
Vimbada -Jabidii ft Moji Shortbaba (Kenya)
Obi Dance – Timeless Noel ft Jabidii & Hype Ochi (Kenya)
Africa Gospel Songwriter of the Year
Dumi Mkokstad – Ulwandle (South Africa)
Jeshurun Otchere – Healing Stream (Ghana)
Dr. Tumi – Wafika (South Africa)
Joe Mettle – My Everything (Ghana)
Nathaniel Bassey – Alagbada Ina (Nigeria)
Mercy Chinwo – Excess Love (Nigeria)
Sinach – There's an overflow
Africa Gospel Producer of the Year
Koda – Hossana by KODA (Ghana)
SMJ – Nara Ekele Mo by Tim Godfrey (Nigeria)
Dr. Roy – Excess Love by Mercy Chinwo (Nigeria)
Daniel Ayittah – My Everything by Joe Mettle (Ghana)
Shadrack Yawson – Obi Nyane Me by Patience Nyarko (Ghana)
Gerishom Mubanda – Huniachi by Reuben Kigame (Kenya)
Africa Gospel Video of the Year
Ehhe Moya Wami – Abathandwa (South Africa)
30 Billion halleluyah – Mike Abdul (Nigeria)
My Everything – Joe Mettle (Ghana)
Efata Wo – Nacee (Ghana)
There's an overflow – Sinach (Nigeria)
He keeps on doing – Benjamin Dube (South Africa)
Chini Ya Mwamba – Masterpiece (Kenya)
Africa Gospel Group of the Year
The Gratitude of Coza (Nigeria)
Tim Godfrey and The Xtreme Crew (Nigeria)
Spirit of Praise (South Africa)
Infinite Generation (South Africa)
Daughters of Glorious Jesus (Ghana)
Preachers (Ghana)
Tagoe Sisters (Ghana)